Citizens of Rize On Guard Against HES Dam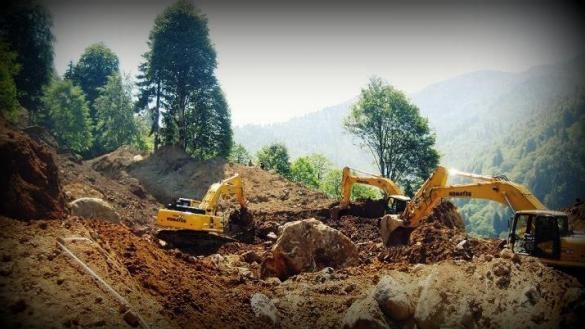 Another construction project by the AKP government is causing outrage, as citizens question whether the price of progress is the destruction of the environment. The hydroelectric plant (HES) project near Rize, like the one near the Konya-Antalya highway to the south, has been met with protest from locals and environmentalists alike due to the disastrous effect it will have on their areas.
Hydroelectric plants are not the only concern of environmentally-minded citizens in Turkey, as the Gezi Park protests in May-July and the protest against the destruction of thousands of trees in Ankara's Middle East Technical University have proven. With the AKP's extreme reluctance to cancel or change projects despite citizens' concerns, and their supreme
The reaction came after work was restarted on the project, which will damn the Andon River. This river provides water to the Andon Drinking Water Facility, which in turn provides water to 300,000 people. A large crowd of protesters came to the construction site from a nearby village to protest the project.
Among the protesters was Kazım Delal, who is known for his struggle against the HES project and even sold his cow to pay the court's legal fees. Delal pulled his own vehicles to the area where construction machinery was set to start work in order to prevent the project from going ahead. When gendarmerie teams arrived on the scene to disperse the crowds, the villagers refused to leave and reiterated their determination to halt the construction. When a tow-truck arrived to pull the vehicles away from the path of the construction, the villagers joined arms to form a human chain and prevent it. At this, the gendarmerie withdrew the tow-truck.
Delal made a statement on the day's events, saying, "This is our land. We parked our own vehicles on our own field. They want to tow our cars away. Well, there was just one car there at first but now there are ten. Which are they going to tow? The Rize Municipality is putting pressure on us. Why? This is no place for the municipality, it's ours. There isn't even any water left in our streams. Just leave us alone. We don't have a single pebble left to give to anyone."